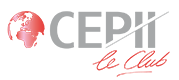 The Club of CEPII
The Club of CEPII is a Business Club, gathering around 50 big and medium size companies. The Club enables selected experts and company leaders to exchange ideas on general trends and the global economic situation. Members get invited to ad hoc conferences, lunches and dinners with high level speakers, adapted to their needs for strategic decisions.


Centre for International Research and Economic Modeling (CIREM)
CIREM is an associative structure, which supports the development of CEPII and its connexion in the European and international research networks. CIREM responds to requests for studies and expertise from French and foreign institutions and companies, as well as from international organizations. The CIREM ensures a concerted management of these activities under the control of its members. It can organize symposiums bringing together academics, senior executives of national and international administrations, business economists and political leaders. The objective is to monitor the progress of academic work on a topic of interest to business and government economists. Its president is Joaquim Oliveira Martins, Counsellor at CEPII. Its board of directors is composed by representatives from the public, private or academic sectors.